Banana Walnut Cake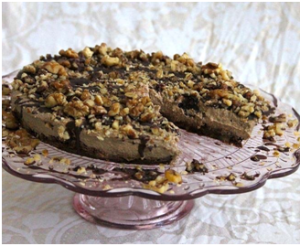 Banana Walnut Cake (makes one 9-inch cake)
Cake Batter:
24 ounces date paste (dates soaked in water to get softer)
¾ cup coconut oil
3 tbsp vanilla (liquid)
1 tsp salt
8 cups of hazelnut flour
3 bananas (about 19 ounces weight before peeling))
2 ½ ounces cacao powder (weight)
1 cup walnuts
How to make:
Add to mixer bowl: date paste, coconut oil, vanilla and salt.
Press into a cake pan.
Cream Cheese Frosting:
2 ½ cups soaked cashews
1 ½ cups almond milk
¾ cup agave syrup
¼ cup lemon juice
1 tbsp fresh vanilla essence
3 tbsp lecithin
1 cup coconut oil
How to make:
Put the frosting in the fridge for about 2 hours and then pour it onto the batter.
Now – put the cake in the freezer. Garnish with walnuts and goji berries!
"To live is so startling it leaves little time for anything else."

Categories

Archives

"Go confidently in the direction of your dreams.
Live the life you have imagined."
– Henry David Thoreau