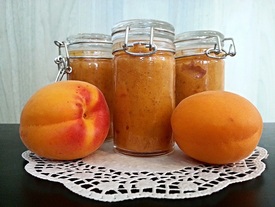 In general jams have been made from the need to preserve fruit so you can enjoy them and their flavours in periods in which it's hard to source them.
At the time of ancient Rome there were very similar products to jam, made from whole fruit dipped in sweet wine, mulled wine, juice and even honey.
The Italian Geography of fruit and their flavours are:
South Italy, thanks to high temperatures is famous for citrus marmalade.
Lemon marmalade in Sicily, oranges in Calabria and quince and figs in Puglia. In these lands citrus are vast and can enjoy a hot and tireless sun.
Central Italy offers a wide range of grape jam.
In Northern Italy, thanks to the humid climate, the forest fruits are used for jams. Blueberries, blackberries, raspberries and strawberries.
Jam can be made from: cherries, plums, oranges, strawberries, peaches, apricots.  One of the greatest benefits of not boiling the fruit unlike  the traditional way of making jam is that all the enzymes are intact and so much less sugar is needed. They can enjoyed with raw crackers and breads.
It's ideal for the whole family.
An abundance of colors and flavours to be tasted at any time of the day: breakfast, snack time and can also be used for the preparation of so many other raw sweets.
I used lemon and dates as the preservative. Dates with its natural sugar enables 'marmelada' a 4-5 day life in the fridge.
Ingredients:
500g of ripe apricots, or any fruit of your choice
7-8 large fresh dates
Juice-half a lemon
1 teaspoon of lemon peel
¼ teaspoon nutmeg
Put all the ingredients in food processor and process until a thick mass – the marmelada is formed. It will need 2-3 min, depends of the power of food processor.
Put the jam into a jar, eat and store the rest in the fridge.
"To live is so startling it leaves little time for anything else."

Categories

Archives

"Go confidently in the direction of your dreams.
Live the life you have imagined."
– Henry David Thoreau