There are so many benefits fermented water from the kefir grain can give you. It's a no brainer to include them in your life if you're looking for ways to keep healthy and vibrant.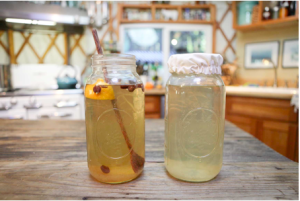 Drinking Water Kefir can help you to achieve your optimal health, strengthen your immune system, and help to prevent diseases of all kinds. Most importantly, it restores good digestion – the key to health and longevity. When your body is out of balance, unfriendly opportunistic bacteria and yeasts can take over – producing irritable and bad digestion, food allergies, headaches, flu, skin rashes, and other more serious disorders. Water kefir is something you and your family can drink and use on your skin every day.
It inhibits the growth of unfriendly bacteria and yeasts, and helps beneficial probiotic microorganisms to colonise and thrive in your digestive tract, and throughout the rest of the body (skin, eyes, bladder, vagina, nose, throat, etc).
It contributes to a healthy immune system.
It reduces inflammation.
It helps with the digestion of food and micronutrients. The key for health and longevity is good digestion, and a balance of good bacteria is the essential starting point.
It can heal and reduce the symptoms of irritable bowel syndrome IBS including bloating, indigestion, flatulence, diarrhoea/constipation, nausea, low energy, muscle aches and pains. It heals intestinal dysbiosis and SIBO (small intestine bacterial overgrowth).
Your increased energy and overall feeling of good health rises.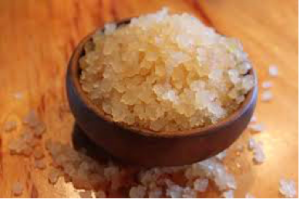 As a consequence it can stop unhealthy food cravings, especially for sugars and sweet foods.
Skin complexion and overall condition improve. Brown liver spots / age spots can fade, as can skin tags, moles, warts etc. It can ease or cure many skin conditions, such as psoriasis, eczema and acne.
Hair and nails look healthier, and are strengthened and improved.
Liver cleansing, as in traditional Chinese medicine, eases aches and joint pains, and benefits the eyes.
Glandular ( endocrine) system (adrenals, thyroid, pituitary, ovaries) benefits. Women have healthier periods, some women have periods start again after early menopause.
It has a tranquillising effect on the nervous system so helps many who suffer from sleep disorders and insomnia, depression, ADHD and autism.
What more could you ask for in these little bundles of bacteria. They are so easy to cultivate and keep at home. They thrive on a sugar solution in water. Making a fresh batch of KefirWater every few days and keeping a supply in the fridge to drink doesn't get any easier than that!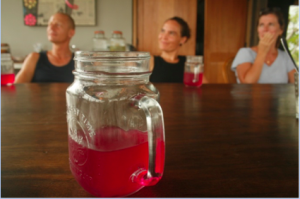 At our retreats we always place emphasis on adding fermented foods and drinks into our diet. We'll get to explore different types of fermentation processes as well as taste them as they come around the table.
Come join us on our retreat check our website for all the details www.artofliferetreats.com
"To live is so startling it leaves little time for anything else."

Categories

Archives

"Go confidently in the direction of your dreams.
Live the life you have imagined."
– Henry David Thoreau