Lots of exciting news to share, so much is transforming!
Our retreats are taking a big turn in a new direction. We are restructuring our attention towards opening up the week to create space for radical healing in response to people's desire to get answers and discover what is happening to them in these shifting times.
To match the transformation we are excited for our new collaboration with people who are committed to creating change, who are pioneering a new way of being by what they stand for.
It's the Art of Life Retreats with more power and intention!
We'll be fueling our bodies with organic living foods. Yes!
We'll be flowing with Yoga Synergy. Perfect for beginners who want to start moving their bodies, and perfect for those who are fluent and want to find more grace and ease in a more advanced practice.

We'll also be incorporating our new love-affair with the movement practice of Qi Gong and going deeper on bridging our connection to our center.
We'll focus on bringing everything back to ourselves. There will be sessions in self healing, releasing unserving habits and looking into the control settings of patterns to ultimately come closer to restoring our factory settings. Freedom!
This is the perfect opportunity for those wanting to make real change in their lives, to resolve the unresolved. We'll create a space to cultivate energy and then apply it to deepen our intuition and connection, to be who we really are. The feeling is fantastic.
This is no ordinary retreat. We are coming together to catalyse change.

30th April – 5th May 2016
Notice something different?
Our April-May retreat has had to be reduced to 6 days – We aren't reducing the offerings, we'll just be packing more in, but we are offering a super special discount in lieu of the unexpected changes.
Book 2 places together for US$2,000 all inclusive for 2 ~ perfect for couples, best friends and partners in support of coming to experience the retreat week together.
Limited spaces, reserve your spot now info@artofliferetreats.com and for more details see our website www.artofliferetreats.com

We are keeping all of our favourite elements with guest speakers sharing their passion for movement and philosophy, as well as being powered by amazing living food meals that keep us nourished and satiated from the inside out.
Have you seen our new video Come on a magical tour with us!
The science of Mudras is a big part of yoga and is based on the fundamental principles of life and the five elements of Fire, Air, Ether, Earth and Water corresponding with each finger of the hand.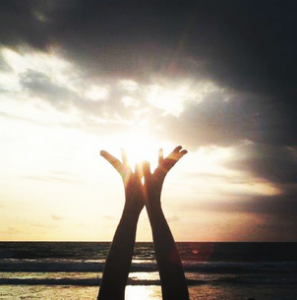 They are mainly performed as gestures by fingers, hand positions combined with yoga postures or are performed on their own. They are also often done during meditation.
Mudras also known as energy controls hold electromagnetic power which is said once held maintains equilibrium in the body elements.
There are even prescriptions of holding particular mudras for set periods of time for rejuvenating the body, healing diseases and to also help with focus. A mudra for any ailment!
The Yoga Synergy sequences  incorporate them within their system and is a great opportunity to experience their effects whilst practicing yoga.
For the purpose of these next few posts we will keep the focus on particular hand mudras and later expand into generating mudras within postures.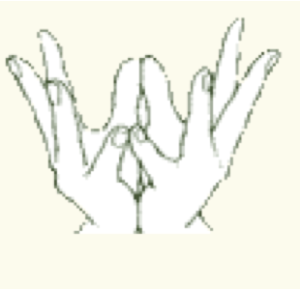 PANKAJ MUDRA or also known as the Lotus Mudra
Is a symbol of purity and offering, and a part of worship.
In this mudra both the thumbs and little fingers touch each other.
This mudra is said to develop the fire and water elements as well as balancing them out.
'Like a lotus, which remains detached from the mud in which it blooms, a practitioner remains detached from the mud of attachment, while continuing their meditation.'
This mudra has a cooling effect on the body, the nervous system improves and the mind becomes calms. It's said to be a great pacifier for fevers and to work well with blood disorders.
For me I feel like my whole mood lightens up when I make this gesture it makes me want to smile. Try it out for yourself and leave a comment below!
You can find out more about Oksana
here
"To live is so startling it leaves little time for anything else."

Categories

Archives

"Go confidently in the direction of your dreams.
Live the life you have imagined."
– Henry David Thoreau