Sometimes you meet a person that so inspires you that they become an intricate part of your life!
.
Every week I go to the little carpark in Penestanan Ubud where everyone patiently waits for the blue van to arrive from the mountains.
.
As the van is unloaded with boxes, there is a mini frenzy as everyone dives in to grab bunches of the freshest spinach, lettuces, rocket and kale. Boxes of all sorts of varieties of vegetables like the sweetest turnips, kohlrabi and beets, and juicy cucumbers, and peas and whatever is in season is brought out and is instantly snatched up by the keen shopper.
.
Joko is an organic farmer who lives in the mountains of Bedugal where the soil is rich in nutrients and the air and water is clean.

I met him 5 years ago when he had started a little market stall on Tuesdays in Ubud. His Greens were so vibrant unlike anything I had seen before, I was eager to introduce myself and get to know him – anyone who has a passion for organic veggies is a sure friend of mine.
.
One of the dilemmas of growing 'organic' in developing countries is that the farmers general only have access to tampered seeds, potentially even genetically modified seeds. There is just no way to know. So even though growing vegetables and using organic practices might be their intention – their access to organic & heirloom seeds is limited

 Luckily a few years back I'd visited Eden Seeds, a seed famer in NSW, Australia and so I knew were to source the best seeds. I ordered their 'Self Sufficient Seed Collection" which literally covered every vegetable group and their different varieties (just under $300) and gifted this to Joko. This was the beginning of our flourishing friendship.
.
Not only was Joko excited to grow so many more varieties of vegetables but my desire for healthy clean veggies would also have a ripple effect through the community too. I knew it would touch anyone who would ever eat a cucumber, kale or radish from him. And it was this part that excited me most: With a small gesture from my part I could help a farmer and his family become self sufficient and make an impact on the greater community. It was an opportunity I couldn't resist!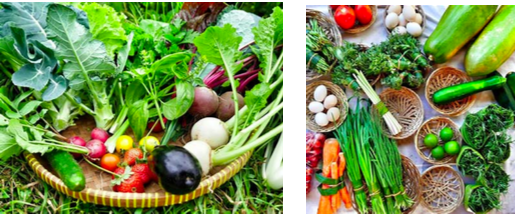 Going to the markets to get my lovingly pre-packed bag of fresh greens & veggies from Joko is one of my weekly delights. We have such a great connection. Im always so eager to see him and I get to hear the latest news from the farm – what's new to sprout and what's coming into season.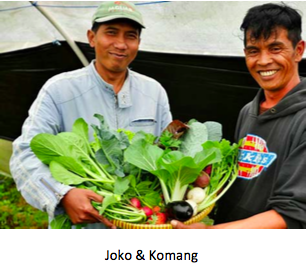 But the best part is I get to bring a big bag full of the freshest produce home.
.
Its just amazing to see what comes out of the bag from the farm directly to my table. This video shows it all
.
 .
You can find out more about Oksana
here
.
"To live is so startling it leaves little time for anything else."

Categories

Archives

"Go confidently in the direction of your dreams.
Live the life you have imagined."
– Henry David Thoreau