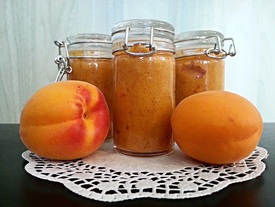 Ingredients:

•500g of ripe apricots, or any fruit of your choice
•7-8 large fresh dates
•Juice-half a lemon
•1 teaspoon of lemon peel
•¼ teaspoon nutmeg
Procedure:
Put all the ingredients in food processor and process until a thick mass – the marmelada is formed. It will need 2-3 min, depends of the power of food processor.
Put the jam into a jar, eat and store the rest in the fridge.
"To live is so startling it leaves little time for anything else."

Categories

Archives

"Go confidently in the direction of your dreams.
Live the life you have imagined."
– Henry David Thoreau