Moringa oleifera is one of the most talked super plants at the moment.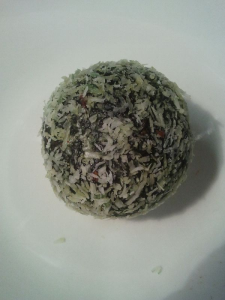 Rich in antioxidants, extreme high levels of free radicals, lowers high blood pressure, reduces inflammation and draws out heavy metals (see last blog ).   High in protein, Vitamin B6, Vitamin C, Iron, Vitamin A, Riboflavin (Vitamin B2), Magnesium…just to name a few.
I put together this recipe and its yummy. Eat as a snack, take it with you to work, doesn't require a fridge.
Ingredients:
1 cup activated Almonds (soak your almonds for 24 hours wash, drain and dry on the lowest setting in your oven or in a dehydrater.   I do 5 kg at once so I always have plenty in my pantry
3/4 cup of Cashews
3/4 cup of desiccated coconut
2 Tbs.  of Moringa powder
2-5 drops of essential peppermint oil ( I like to use young living or doterra )
1/2 cup of date paste
1/4 cup of currents
Salt to taste
Food process all ingredients until it comes together -not too wet though if too dry add a bit more date paste.
Roll balls bite size and roll them in coconut or Moringa powder mixed with coconut.
Enjoy!
"To live is so startling it leaves little time for anything else."

Categories

Archives

"Go confidently in the direction of your dreams.
Live the life you have imagined."
– Henry David Thoreau