For anyone starting, undergoing, finishing breast cancer treatment, this beautiful warrior goddess has written a site on what helped her during her treatment. As Green as it can be. Believe in it.
What was the single most helpful thing I did during breast cancer treatment?
Drink Green Juice.
Organic Green Juice as much as possible.
I don't mean like that disgusting green Kool-Aid I drank during grade school. I mean a raw juice made from organic cucumbers, celery, green apples, lemons, kale and ginger and sometimes turmeric.
So many cancer survivors tout drinking the stuff. From Kris Karr, Crazy, Sexy Cancer, to Shauna Martin of Daily Greens, a breast cancer survivor.
Why Do People Drink Green Juice?
In my experience, because it works.
I like to think of it this way, if my body is in balance it means that it is alkaline or not acidic. Another way to say this is it's not inflamed. (Read up on Dr. Mark Hyman)
In general, day-to-day, I eat and expose myself to things that make my body acidic like drinking alcohol, eating cheese or being stressed.
Cortisol, the stress hormone, if left unchecked at chronically high levels suppresses the immune system. This will reduce the body's ability to defend or repair itself  against things like cancer. More info here.
When I thought about putting my body through surgery, chemotherapy and radiation treatment, I knew it would be out of balance big time. I think during my two rounds of chemo, I took 5-6 medications on top of the chemo doses for breast cancer treatment.
My body was in acidic breakdown.
Green Juice to The Rescue
By delivering raw juice goodness to my body, I gave it the nutrients it needed to not only stay in balance, but to heal. (Read to the end of post for resources.)
Now, I drink green juice on average five days a week.
Nutrients, sometimes a forgotten word in our day-to-day vocabulary, are vital for health and healing. At least that is my way of thinking.
I realize now, there was another benefit too. By creating a daily practice, I gave myself a little piece of control in an almost uncontrollable situation.
When people ask, "How was treatment?"  I want to scream, "F!*!*!* hard!"
Instead if I dig past the anger and pain, I see what lies beneath. Fear.
The diagnosis and subsequent treatment felt like it came out of nowhere. A slap in the face I didn't see coming. A loss of control.
Don't get me wrong, I don't think that I have control over my life, but I sure as hell believed that breast cancer wasn't something that would grow inside me.
But it did.
Creating a daily practice that I know delivers pure plant goodness to my cells feels good. It's like I'm lovin' on my body in a way I never did before.
In some ways cancer grows because cells are weakened. I want to give my cells all the nutrients and love I can so they're strong and can stand up for themselves.
The Proof
The proof that Green Juice works is in my recovery periods and energy levels.
For surgery, my drain came out in a week. Unheard of at the hospital. The nurse asked how I'd recovered so well. I told her Green Juice.
For chemo, when I saw my care team, they were always surprised by my complexion and energy. "It's the Green Juice" I'd say.
And when my radiation burn healed after two days instead of two weeks, I was made a devout Green Juice worshiper.
Juice it up people!
Hope this blog helps you or someone you love through breast cancer treatment.
GREEN JUICE RESOURCES
Manuela Scalini is a dear friend and raw food chef. If you want to make Green Juice at home, follow her recipe here.
If making green juice at home seems daunting then try one of the resources below (full disclosure, my sweet husband makes my green juice):
Green Vibrance
I use this when traveling. Has a lot of good stuff in it. I only use half of the package in water or a smoothie. Mostly in smoothies.
Travis Elizabeth Brady documents her extraordinary healing journey and continues to inspire many on her blog page Grace & Ease  www.graceease.com
EATING your way CLEAN with FRUITS vs JUICING  – High Carb
New year is always a great time to kick start new projects, new programs, set goals, make healthier choices, start a dance or singing class, and to generally bring focus on new intentions for the year.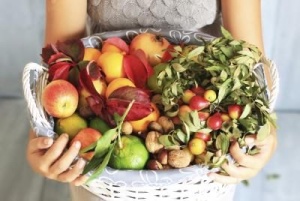 If you're still recovering from the Christmas festivities, or have just had no time and are already back at work perhaps these tips can help you start today.
All of us have heard that the greatest thing we can do for our body and for that extra kick in motivation is to Alkalise!
If you are suffering from lethargy, have weight problems or water retention your body is probably overly acidic. When you alkalize your body through proper eating and healthy living, you can overcome all sorts of discomforts, reach your ideal body weight and literally have more energy for all the things you want to do.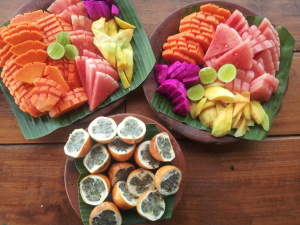 One of the most obvious signs of acidity is excess body fat. When your body is acidic, it tries to neutralise the acid. One of the ways it does this is to store excess acid in fat, which can lead to that puffy feeling. When you alkalize your diet, your body sweeps through and removes this buildup.
To alkalize you need to eat more alkalizing foods and fewer acidic foods. In this way, you can create a healthy diet that will help you reach your ideal weight without "starving" yourself.
Juicing and fasting / abstaining from food is one way. But time and time again its proving that for most people it disrupts their metabolism and only works as a quick fix rather than having long term success. Most people break a fast in desperation to satiate hunger and the unhealthy relationship to food is re-instilled.

So the new option to try is to eat your way clean!
All fruit is alkalizing, and so are all leafy green. Vegetables are next. But nuts, seeds and oils are on the border of being neutral acidy/alkalinity. If you focus on making sure you eat all alkalizing foods for each meal, guess what you will be on your way to an alkaline body very quickly.
On the opposite end of the alkalizing spectrum is the acidic side: sugary and manufactured foods, meats, fish, dairy products, bread and other cooked grains, drugs, alcohol and caffeine. Pork and Parmesan cheese are a few of the extremes. To neutralize the acidity of just one cup of coffee you need to drink 12 glasses of water!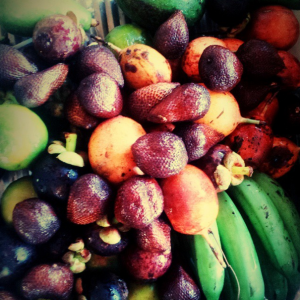 Most people get their daily calories from concentrated foods – too much protein, too much fat, and too much sugar sprinkled on top. These meals are generally smaller because they are caloric-ally dense and acidic.
When we make the switch to high carb foods we need to eat more quantity. The trick is not to under-eat in calories otherwise the body goes into starvation mode and can wreak havoc to the metabolism. Under-eating is the biggest reasons why most people can't sustain 'diets'. Most, if not all basic bodily/brain functions require glucose, not eating enough 'good carbohydrates' will have the body screaming for the 'dense/acidic' foods to get its fix.
When you start making changes to alkalize the body, toxins will be released. You may feel ill temporarily, but push through it, once they are eliminated they are gone and a surge of energy will take its place. Make sure you drink at least two litres of purified water or fresh juices per day (you can include enemas or colonics – they aren't necessary but they do speed things up in the early stages.) so your body can flush things out quickly.
"To live is so startling it leaves little time for anything else."

Categories

Archives

"Go confidently in the direction of your dreams.
Live the life you have imagined."
– Henry David Thoreau