Pesto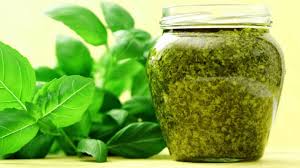 is an Italian sauce traditionally made from garlic, basil, pine nuts, olive oil, salt and Parmesan cheese. But truth be told, the primary flavor in pesto is actually basil, which means that you don't really need cheese. Plus, it's a less expensive option than the pricey cheese. This Vegan Basil Pesto is so good, you will never know the difference because it tastes like the traditional one.
You only need five ingredients to make this delicious,
INGREDIENTS:
2 Cups Fresh Basil  leaves
2 Cloves Garlic
1/2 cup Olive oil
1/4 cup Nuts (could be pine nuts, or wall nuts)
Salt and Pepper to taste
DIRECTIONS:
Combine the nuts, basil and garlic in a food processor until coarsely chopped.
Add 1/2 cup of the oil and process until fully incorporated and smooth.
Lastly, add salt and pepper to taste.
There you have it, healthy and easy. Enjoy.
"To live is so startling it leaves little time for anything else."

Categories

Archives

"Go confidently in the direction of your dreams.
Live the life you have imagined."
– Henry David Thoreau