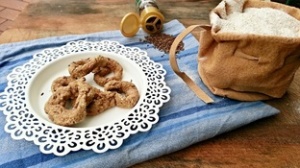 Ingredients:
1 cup of millet flour (millet flour makes "Taralli" crispy)
1/2 cup of pulp sesame
½ cup of soaked buckwheat
1 cup of green olives
½ cup of water or less
salt is not needed because of the salty olives
Put all the ingredients in a food processor until the dough forms into a rough mass.
Pinch walnut-sized pieces of dough, roll first between your hands, and then against the wooden cutting board, so that the dough forms a thin rope, about ½ inch (1 cm) in diameter and 4" long (10 cm).
Shape each rope into a ring, and seal the edges together by pressing lightly, then set aside the Taralli rings on a teflex sheets.
Season with cumin and put in a dehydrator at 42 degrees for 12 hours or until perfectly crispy.
Enjoy the flavors of Italy!
Neli Todorov writes an active blog http://nelisraw.blogspot.it/ and shares news of workshops and events on her facebook page
"To live is so startling it leaves little time for anything else."

Categories

Archives

"Go confidently in the direction of your dreams.
Live the life you have imagined."
– Henry David Thoreau