Raw Stuffed Mushrooms with Rosemary "Cream"
Portabello provides nutritional values like antioxidants,copper and potassium. They have this meaty texture so they can be used in place of meat.
Serves 4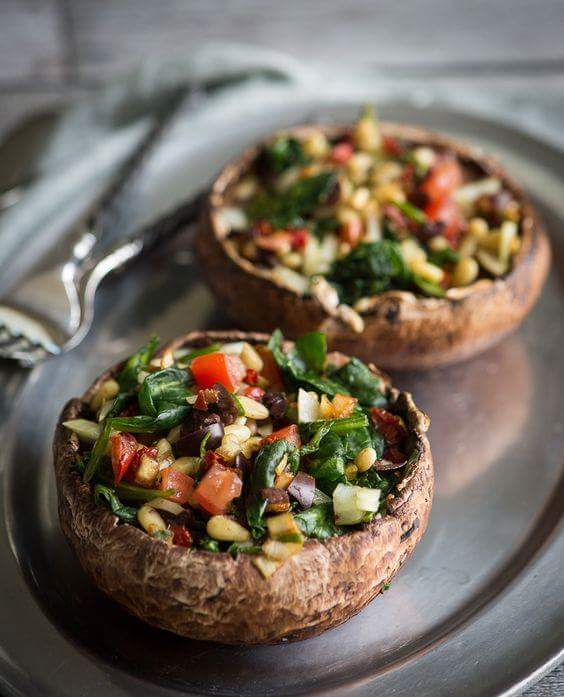 Ingredients:
 4 large portobella mushroom caps
3 cups diced tomato, divided
1 cup diced sweet onion, divided
1/4 cup plus 2 tablespoons tamari
2 tablespoons coconut nectar or liquid sweetener of choice
4 cups spinach, crushed
1/2 cup kalamata olives, chopped
1/2 cup pine nuts
Himalayan salt and pepper to taste
How to make:
Rub mushroom caps inside and outside with two tablespoons of tamari. Set aside.
Place half the tomatoes and half the onions in a bowl. Stir in the remaining 1/4 cup tamari and the coconut nectar. Make sure all the tomatoes and onions are coated. Spread on a non-stick dehydrator sheet and dehydrate, along with the mushroom caps for 2-4 hours at 115 degrees.
When the tomatoes and onions are done, mix together with the remaining tomatoes, onions, spinach, olives and pine nuts.
Spoon tomato mixture into mushroom caps and top with garlic cashew cream.
Cashew Garlic Cream
Ingredients
1 cup cashews, soaked overnight, drained and rinsed
1/2 cup water
1 clove garlic
1 teaspoon fresh rosemary, finely chopped
Himalayan salt and pepper to taste
How to make:
Blend cashews, water, and garlic in high-speed blender until smooth
Stir in rosemary, salt and pepper.
"To live is so startling it leaves little time for anything else."

Categories

Archives

"Go confidently in the direction of your dreams.
Live the life you have imagined."
– Henry David Thoreau