Three Explosive Breakfasts In One: Chia, Coconut Yogurt & Berry Compote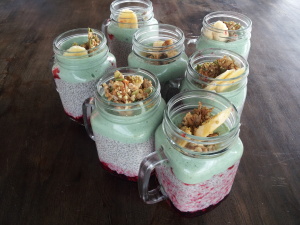 This breakfast had a standing ovation at our retreat. The 3 layers combined created a spectacular breakfast, you can serve them individually or mix and match.
Since Moringa has been a major theme; as an option, add a few teaspoons of Moringa powder when making the coconut yogurt recipe, this will give it the real wow factor!
---
Chai and Chia Porridge
4 cups of Coconut Milk (you can also use any other Nutmilk)
8 tablespoons of Chia Seeds
6 tablespoons of Dates chopped
1 teaspoon of Cinnamon powder
½ teaspoon of Cardamom powder
A pinch of Salt
Procedure:
Mix all the ingredients and mix very well with a whisk for a few minutes (important).  Refrigerate over night.  Will stay good in the fridge until all eaten 🙂
---
Coconut Yogurt (serve with Berry Compote)
Yield:  2 ½ Cup (2 servings)
3 Cups of medium soft coconut meat
1 capsule of Probiotics or  ½ teaspoon Probiotics powder
Procedure:
Blend all ingredients until smooth.
Add a little bit of water if needed.
Transfer the mix into a glass jar and cover the top with a towel (leave at least 1/3 of the jar free, as the mixture will rise up for fermentation).
Keep in a warm place overnight.
Next day, transfer the mixture into a bowl and mix with a whisk or blender until smooth.
---
Berry Compote
Yield: 2 Cups
2 Cups of Strawberry or any berry (fresh or frozen)
¾ Cup of Date Paste
1 Cup of any berry or berry mixture
Procedure:
Process all the ingredients in the food processor except for blueberry and/or raspberry mixture.
Add blueberry and/or raspberry mixture and blend for few seconds.
"To live is so startling it leaves little time for anything else."

Categories

Archives

"Go confidently in the direction of your dreams.
Live the life you have imagined."
– Henry David Thoreau