Yield 2 serves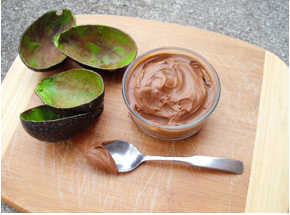 1 Avocado
1/2 cup Nutmilk
1/2 +1Tbs Cacao powder
1/4 cup Maple syrup or coconut palm syrup
1/2 tsp. vanilla paste
pinch salt
2 Tbs. coconut oil melted
1 Tbs. cacao butter melted
How to make
Place all Ingredients except coconut oil and cacao butter in a food -processor
-Taste and adjust sweetener while the motor is running add the oil and butter.
Place in fridge to set or if you cannot wait that long in Freezer .
Garnish with cacao nibs and activated caramalized nuts for texture.
"To live is so startling it leaves little time for anything else."

Categories

Archives

"Go confidently in the direction of your dreams.
Live the life you have imagined."
– Henry David Thoreau