Yoga and Raw Food Retreat Bali
Transform the way you see the world with Yoga Retreats in Bali! We are coming together to reconnect to ourselves, to Mother Nature and to the things we most love and cherish. Our daily lives are a juggle and sometimes a struggle, it's not easy to keep things balanced and in perspective. So taking time-out is crucial. Whether you are looking for a detox to energise yourself, to deepen into your yoga practice or just dreaming to get away from daily life; we are getting together to be inspired to live a more healthy and vibrant life.
Join us at the amazing Azadi Retreat, a paradise resort amidst the rice fields in the cultural town of Ubud. Indulge in a week filled with yoga, meditation, gourmet raw vegan cuisine and local Balinese culture. A time to play – a time to just be. Whether you are a beginner or want to extend your knowledge of movement, posture and skills. This is a retreat for those who want to learn and explore different techniques that empower your well-being and have a profound impact on your daily life. All to help you bring about change so you can cultivate a life where you can know and realise your own potential while supporting the potential of others, as well as feeling rejuvenated, joyful and alive. All in a fun and inspiring setting, surrounded and supported by nature.
Clear out and let go of the old and make room for new positive energy and vitality!

---
The Package includes:

6 days, 5 nights

Shared accommodation at the magnificent Azadi Retreat

All Raw Living Gourmet Meals ~ Breakfast, Lunch, Dinners & Delectable Desserts!

All planned activities ~ see Yoga Retreat Details for more info

Treatment package of your choice & so much more.

Dates: 30th April – 5th May 2016 SPECIAL OFFER remains until the end of the March
USD $1,275 all inclusive * Price is based on twin share. Please inquire for other variations. Full Price $1,550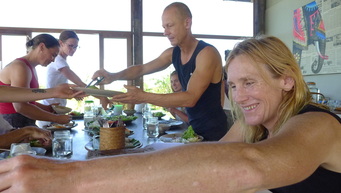 "Raw Energy -Vitality – Longevity – Thank You! "
I was very impressed with the philosophy and the joy in which these experienced teachers gave their knowledge and promoted a healthy way of living.
I have been reminded about my love of creative expression and how I need to practice daily. You have inspired me to practice yoga to improve my strength and flexibility and well-being. I will be taking away with me the love and joy into my life that you have expressed in every moment of the week. And you have shown me the art of raw food preparation and I will now be making food as vital and delicious as possible. The food on the retreat was off the richter scale!!  ~ Anthea

---
---